June 2023
| Sun | Mon | Tue | Wed | Thu | Fri | Sat |
| --- | --- | --- | --- | --- | --- | --- |
| | | | | 1 | 2 | 3 |
| 4 | 5 | 6 | 7 | 8 | 9 | 10 |
| 11 | 12 | 13 | 14 | 15 | 16 | 17 |
| 18 | 19 | 20 | 21 | 22 | 23 | 24 |
| 25 | 26 | 27 | 28 | 29 | 30 | |
Calendar
The wealthy have insulated themselves from reality with boatloads of cash. Others have insulated themselves in some cases from the reality that they created by their own greed, like outsourcing jobs and manipulative derivative trading on Wall Street. You see, the top wealthy elite have not really been hit by this recession as they were in the Great Depression. This is due to 30 years of wealth distribution upwards. They had accumulated a ton of cash that would be able to sustain them through many years of economic turmoil.
http://www.politicususa.com/en/working-class-sacrificed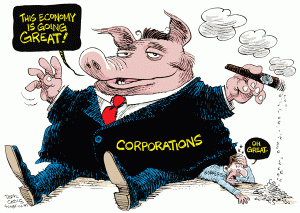 AMEN
Too bad the rich hold on to it like you can take it with ya when ya DIE!

gettheminNOVEMBER

Member




Posts

: 2626


Join date

: 2011-02-21


Age

: 48



You can't take it with you, but you can pass it on to your heirs. I was once wealthy and believe me I had to pay taxes on everything. The wealthy DO pay their fair share - in capital gains tax, real estate tax, higher income tax, taxes on dividends...the list goes on.

  Did you ever consider a 401K or IRA that let you at least have some growth tax deferred? How about a 529 plan? Do you have any private investments? Real estate?



   The idea of "boatloads of cash" is for the most part a myth. The wealthy gain their riches through investment/divestment cycles. You don't have to be fabulously rich to start investing. One thing a small investor , $1000 - $5000, can do is get into gold and silver bullion. Many mutual funds will let you start with only a thousand.
I've seen about 8-9% gains on some of mine since the beginning of 2013.

pbrad009

Member




Posts

: 46


Join date

: 2011-03-07



---
Permissions in this forum:
You
cannot
reply to topics in this forum