July 2018
| Sun | Mon | Tue | Wed | Thu | Fri | Sat |
| --- | --- | --- | --- | --- | --- | --- |
| 1 | 2 | 3 | 4 | 5 | 6 | 7 |
| 8 | 9 | 10 | 11 | 12 | 13 | 14 |
| 15 | 16 | 17 | 18 | 19 | 20 | 21 |
| 22 | 23 | 24 | 25 | 26 | 27 | 28 |
| 29 | 30 | 31 | | | | |
Calendar


For instance, a ThinkProgress media analysis of the coverage of three major cable news networks — CNN, MSNBC, and Fox — over the last week finds that these outlets gave a much larger portion of their coverage to U.S. debt rather than the unemployed. ThinkProgress scanned media coverage at these outlets for the words "unemployed," "unemployment," and "debt." The first two phrases put together still got 15 times less coverage than the debt.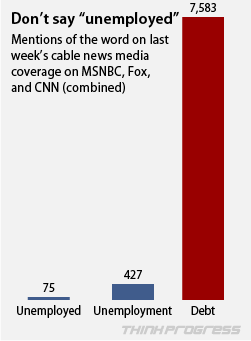 http://thinkprogress.org/economy/2011/08/01/284634/invisible-unemployed-media-ignore/
I have to say, I don't agree. I have it on all day and I switch back and forth, all day every day every analyst who was interviewing anyone said we can't get better without jobs. They openly disagreed with many guests that people don't care about the debt, they care about jobs. The problem was, they would not push them for answers, the Republicans would say, lower taxes will take care of jobs, Tea Partiers said less spending and lower taxes would take care of jobs and the Dems were all pushing for additional infrastructure for building and roads and rails. Not one would really change the tone of the conversation. It was okay here is the problem, Jobs, but no one asked about how we should solve it.
We need a media push again to get their attention focused on the Jobs.
There are no pressing issues now, no default we hope. Time for this to be the main focus.

---
Permissions in this forum:
You
cannot
reply to topics in this forum