May 2018
| Sun | Mon | Tue | Wed | Thu | Fri | Sat |
| --- | --- | --- | --- | --- | --- | --- |
| | | 1 | 2 | 3 | 4 | 5 |
| 6 | 7 | 8 | 9 | 10 | 11 | 12 |
| 13 | 14 | 15 | 16 | 17 | 18 | 19 |
| 20 | 21 | 22 | 23 | 24 | 25 | 26 |
| 27 | 28 | 29 | 30 | 31 | | |
Calendar


"Once your unemployment runs out, you're done," said Michael Butler, a Benicia resident who counts himself among the nation's "99ers" — those who have been out of work for more than 99 weeks. Through his association of what's called the "99ers Union," an information-sharing group of individuals and associations affected by continued joblessness, he's heard of individuals who are in far worse shape than he.

"These people are tired of trying very hard to find a job," he said. They're tired of losing their electricity and phones. "The well's run dry, and their dignity's gone." Butler has his own challenges, living at what he called "emergency level" for too long.
"The more you invest in people, the more it'll come back," Butler said. But the legislation offers 99ers more than just benefits, he said. "It's hope," Butler said. Something millions in the U.S. need.
http://beniciaherald.wordpress.com/2011/03/24/plight-of-the-%E2%80%9899ers%E2%80%99/
Last edited by DesperateInRI on Thu Mar 24, 2011 7:43 pm; edited 1 time in total

gettheminNOVEMBER

Member




Posts

: 2626


Join date

: 2011-02-21


Age

: 43



Thank you Mike for continuing to advocate and for putting yourself out there.
You beat me to it Desp

Twitter is great for info. I am glad I tried it out.

gettheminNOVEMBER

Member




Posts

: 2626


Join date

: 2011-02-21


Age

: 43



Excellent interview Mike!!
_________________
Thanks to all members for participating in the discussions.
Thank you Mike for speaking on our behalf.

rainer123

Member




Posts

: 27


Join date

: 2011-03-20



DesperateInRI wrote:

"Once your unemployment runs out, you're done," said Michael Butler, a Benicia resident who counts himself among the nation's "99ers" — those who have been out of work for more than 99 weeks. Through his association of what's called the "99ers Union," an information-sharing group of individuals and associations affected by continued joblessness, he's heard of individuals who are in far worse shape than he.

"These people are tired of trying very hard to find a job," he said. They're tired of losing their electricity and phones. "The well's run dry, and their dignity's gone." Butler has his own challenges, living at what he called "emergency level" for too long.

"The more you invest in people, the more it'll come back," Butler said. But the legislation offers 99ers more than just benefits, he said. "It's hope," Butler said. Something millions in the U.S. need.

http://beniciaherald.wordpress.com/2011/03/24/plight-of-the-%E2%80%9899ers%E2%80%99/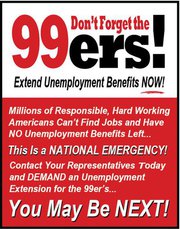 ---
Permissions in this forum:
You
cannot
reply to topics in this forum